BE UNIQUE – From now on you are the center of attention to every party, rave, festival or any other event you will attend with your breathtaking Laser Gloves!
PARTY LIKE NEVER BEFORE – Forget the parties without the gloves, your next parties will be on a whole other level. Your friends will be amazed!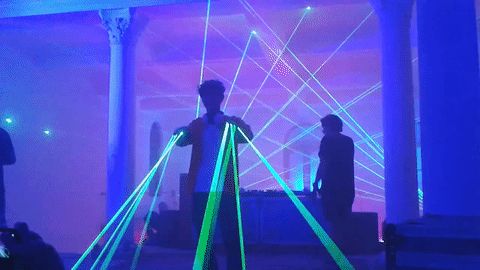 TOP QUALITY – Each of the gloves is handmade from the best materials. Each glove gets our "Top Quality" badge before leaving the factory. It is packed in a shock absorbing premium hard box to prevent any damage.
TOP SERVICE – We provide a tracking number for each order made. It allows you to see the status of the shipment. We grant a personal treatment for every customer at our store and for every question sent to us by email we guarantee to reply within 24 hours!
FEATURES :
MULTICOLOR – you can order a red or green pair of gloves, or mix them and order one of each kind, red for left hand and green for right hand.
HIGH-POWERED LASERS – 4 High-Powered Lasers in each glove which creates sharp and amazingly looking beams, that will definitely make you the center of attention wherever you will be!
MULTI BEAM SPLITTER – on each glove there are 4 Beam Splitting Caps (removable), which split the main laser beam to many laser beams and create a breathtaking laser exhibition.
ADJUSTABLE WRIST STRAP – to fit all hand sizes the glove are equipped with high quality adjustable strap which you can adjust for perfect fit and top comfort.
RECHARGEABLE BATTERIES – can be recharged using the wall charger (which is included as well)
PACKAGE INCLUDED :
Laser Gloves (Right Hand / Left Hand / Pair)
Rechargeable Battery
Wall DC Charger
4 Beam Splitting Caps (For Each Glove)
Premium Hard Box
WARNING:

Lasers can be dangerous. This product is not for children. Do not shine at buildings or airplanes. Use at your own risk.