Experience a new way to view the world!!!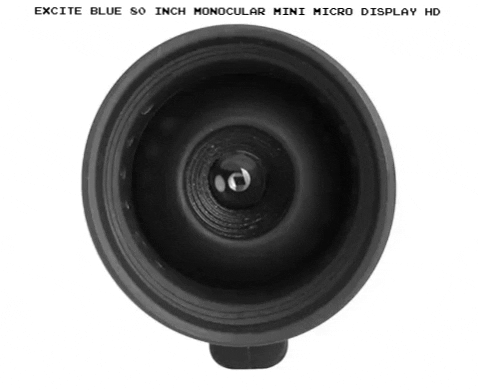 See the world with this 80 inch monocular for a more immersive viewing experience.
Maximize your video experience with the Excite Blue 80 inch Monocular Mini Micro Display HD. This best-quality product is a must for FPV enthusiasts.
This is an 80-inch mini micro monocular display, it can be used as a monitor for FPV (first-person view) drones with AV input, a headband included. It can be used for the single-counter viewfinder, fishing, security monitoring, also as industrial medical equipment replacing electronic magnifier and endoscopes. With a wide range of use, a Large 80-inch 1080P full high-definition Micro-monocular virtual display also allows you to watch your favorite movies and TV shows with complete clarity. Completely safe for your eyes with video goggles made of ABS shell, you can see everything clearly and safely.
Features:
Its large screen and 1080P high-definition display effect provide an exquisite and clearer image.
With a unique optical design, watch more comfortably and safely.
The display module simulates a virtual 80-inch screen at a distance of 2 meters range.
TFT LCD display chip with VGA pixels, image, and light source system, high-performance optical engine, and drive control circuit.
FPV model aircraft display is simple to plugin and the user can experience its simple operation.

It can be used widely for numerous purposes, including Night vision, medical, information, infrared detection, and power monitoring electronic suite viewfinder monocular display.

It allows you to watch movies and other entertaining series with any posture at any time and at any place as well.
Technical Specifications:
Material: ABS material

Size: 4.5 x 4 x 4cm (lens)

Interface: 3.5 mm

Line length: 1 m

Display Type: FPV Large 80-inch 1080P full high-definition Micro-monocular virtual display

Display: One TFT LCD display chips (Nematic liquid crystal)

Sensor: CMOS

Resolution: 854 x 540  (equivalent to LCD 1280 x 960)

Screen ration: 43

Color Depth: 24-bit input

Viewing Angle: 26° diagonal

An exit pupil distance: 20 mm

An exit pupil diameter: 1-2 m

Operating temperature: 0 Celsius ~ 60 Celsius

Image Input: Composite AV/CVBS (interlaced, interpolated, and 2D / 3D denoised, line-by-line HD display)

Video Signal: NTSC/PAL/SECAM automatic selection

Adjustment function: Myopia adjustment

Eyesight adjustment: range -650° to +200° (naked eye supports up to 650° myopia, hyperopia/presbyopia up to 200°)

Working voltage: 3.7-5 V

Working current: 120 MA

power consumption: 0.6 W

Supported formats: 8-bit RGB-serial data, Hd, Vd, Valid, Clock

Display frame frequency: 120Hz(NTSC), 100Hz(PAL)

Fill factor: <50%

Color generation: Color filter triads

Video controller: External

Switching Speed: 6-20 millisecond

Life: more than 60,000 hours
Package includes:
1 x 80 inch Monocular Mini Micro Display Goggles

1 x Hood

1 x Bind

1 x User Manual