Have fun and a Whole new Experience with Flybarless RC helicopter!
Suitable for both beginners and professionals… Easy to control and fun to operate…
WLtoys Brushless Flybarless RC Helicopter is the perfect choice as a remote control Toy. This RC helicopter is exactly what you desired to have. Its Aerodynamic blade design and Flybarless system makes it more stable, gives you an incredible experience of flying RC toy. It has 3D & 6G operational modes which makes the flying more fun and enthusiastic.
Its stunts, flips, rolls, and moves will blow your mind!!
It is for PROs, but its 6G Mode is Normal which is also suitable for beginners. So, even if it's your first, start with 6G and have an exciting first flight.
Features:
HIGH-QUALITY MATERIAL: The WLtoys RC Helicopter is made up of quality Plastic, Carbon Fiber, and Metal. It is 
AERODYNAMIC DESIGN: The Blades of the RC helicopter are designed using Aerodynamics. It provides power to the helicopter with its flybarless system to work with more stability than any other flybar consisting RC helicopter model.
LONGER FLYING TIME: It has a 1912 2830KV brushless main motor, which is equipped with a 3s 1500mAh 25c Lipo battery for better and long fly time. The flying weight: is approx. 58.5g and the flight time it provides is near to 15 mins.
OPERATIONAL SETTINGS: 3D mode and 6G mode integrated, can be switched freely. 6CH Transmitter has 3D (Idle-Up switch). 3D Mode activates 3-axis gyro, enables aerobatics such as flips, rolls inverted flight, funnels, and tick-tocks. 6G mode (Normal Mode) activates 6-axis gyro, allows stable flight, suitable for beginners. It also has a Throttle Hold switch, large LCD, It indicates a low voltage warning. Hovering midpoint setting allows setting of the hovering point. 
POWER: It Includes an exclusive adapter and balance charger.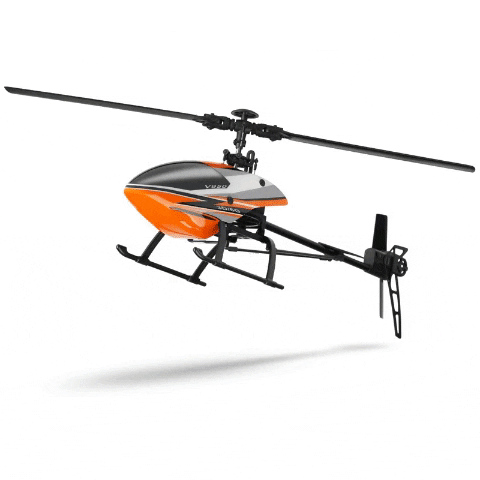 Specifications:
Material: Plastic, Carbon Fiber, Metal

Control: Electric Remote Controlled

Plugs Type: USB

Control Channels: 4 Channels

Controller Mode: 2.4G remote control MODE2 (Control distance approx 120 m)

Controller Battery: 7.4 V 6000mAh

Main Motor: Brushless(1912)  2830 KV

Tail Motor: Iron core 050

Rotor Diameter: 460 mm

Body Length: 450 mm

Height: 170mm

Take-Off Weight: 402g

Battery: 11.1V 1500mAh 25C

Flight time: About 15 minutes (Range approx 800m)

Size of Package: 54* 26.6 *14.8 cm

Weight: 1.8192 kg
Package Included:
1 x Excite Blue WLtoys Brushless Flybarless RC Helicopter

1 x Transmitter

1 x USB Charger

1 x 11.1V 1500mAh 25C Battery

1 x Accessories bag (gear + blade)

1 x Manual