DESCRIPTION:

Twinkly recognizes the position of each single LED on your tree.
You can connect up to 5 strings of light to 1 application!

With Twinkly you can customize your effects starting from your own original ideas. To power this feature our app connects with the camera in your smart phone and begins a programmed sequence of illuminations to create a map of the positions of each LED on your tree.
Once the app knows where your LEDs are placed you can begin to create more complex lighting patterns and effects never before seen on any Xmas tree!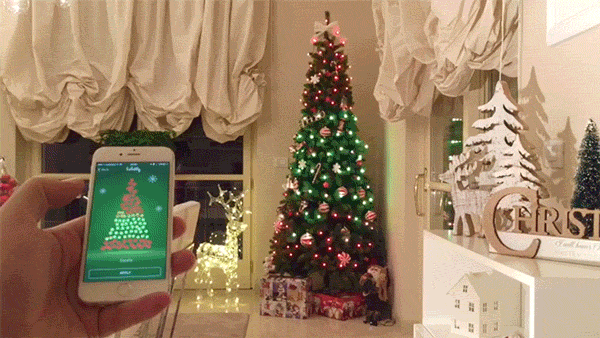 Specification: 

LED Quantity: 30 LEDs; Each light is surrounded by a protective body, specifically designed with a flat head and an opaque layer to intensify the lighting effects. 
LED Color: RGB LEDs 
Length: 16 ft. (with 4" lamp spacing)
Wire Color: Green 
Adapter Input Voltage: 120V (0.6A) max 50/60Hz 
Output: 24V (1.0A) Long Lifespan: More than 30,000 hours 
Warranty: 1 Year 
Waterproof level: IP44 Outdoor Use 
Other Features: Millions of color options; On/Off timer; Upgradable firmware; New/updated animations regularly available for download.