DESCRIPTION:
Lexuma Ultra Automatic Qi wireless fast charging car mount with infrared motion sensor and 
360° rotational pad.
Features:
✦ Automatic Clamping:  Premium Infrared Motion Sensor detects your phone when it's close by the holder and open the holding grips automatically.  Once your phone is placed, grips will be closed automatically and firmly
✦ Tap To Release:  Just press side button of car mount holder once, and the holding grips will be opened automatically, and you can take out your phone easily.
✦ Qi Wireless Fast Charging:  Support wireless charging for ALL Qi-enable mobiles. Car mount holder starts charging phone automatically once it's placed onto the holder
✦ ONE hand operation:  Putting your phone onto the car mount holder, taking your phone out of the holder, or charging your phone… all these operations can be done with one hand!
✦ Suction Cup or Clamp Application:  You can stick the suction cup on dashboard, windshield, desk or even kitchen wall!  Clamp can be installed at air vent.
✦ Easy Installation:  Just stick the section cup on where-ever you like or install at the air vent and start using car mount holder!
✦ Safety Guaranteed:  Multi-protection over high temperature, over voltage, short circuit, over charging and over power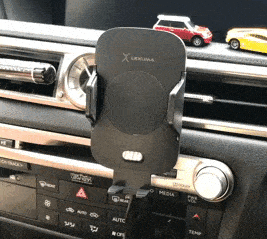 Many cars nowadays have built-in USB ports that makes charging in cars available, but such a solution isn't necessarily perfect as charging is often slow and cumbersome.  You would need to plug charging cable into the phone USB port when you charge your phone. 
When you need to use GPS to navigate through your trips via your phone, you definitely would like to have your phone 
charged up and placed at somewhere visible
from driver's seat.   Even if you have a car mount holder, you need to use both hands to open the clamps and put your phone in. When you take the phone out, both hands are needed again!
How can this be done when you are already on the road? 
With this automatic 
infrared sensor Qi wireless charging car mount
holder, you can solve all these problems with one single hand! Just place your phone near the holder, and the grips will be opened automatically and closed afterwards.  This smart sensor car wireless charger will hold your mobile firmly.  What makes it better is also start charging simultaneously!
How to define the best charging wireless car charger mount? Why this smart sensor car wireless charger is different from others? Check out our blog now!
The Next Generation of Automatic Infrared Sensor Qi Wireless Charging
✧ No need to worry about if your phone is actually charging or your cords coming loose. With this wireless car charger mount, you just need to place your mobile on the charging pad with one hand and it will automatically start charging!
✧ No need to take out your phone for checking while driving. With this smart sensor car wireless charger, you just need one hand and few seconds to start charging the mobile and navigate at the same time!
✧ No need to leave your phone insecurely on the dashboard. With this smart sensor car wireless charger, you just need to softly touch the silver button and the clamps will automatically open. You can easily grab your devices and go!

✧ No need to worry about dropping your phone on rough or bumpy roads. This wireless car charger mount provides both air vent holder and windshield holder. They firmly hold your smartphones even on bumpy roads and you can experience safe driving!