Will You Let Germs and Bacteria Win The Battle ?
Brushing your teeth is the most basic and important activity in our daily lives. You understand the importance of keeping your toothbrush clean since its the "tool" you introduce to your mouth on a daily basis. 
Our multi-functional toothbrush sterilizer
will ensure your toothbrush is as clean as it has ever been. Best quality of sterilization 

and it only takes less than 5 minutes!
The image above makes you wonder why in the world a product like this had not been invented before!
Give yourself that
extra peace of mind
with our 3 in 1 Toothbrush Sterilizer to disinfect your toothbrush and keep your brush clean from the
germs that you don't see.
This way you can
brush care free
without worrying about germs or bacteria that can potentially make you and your family ill
.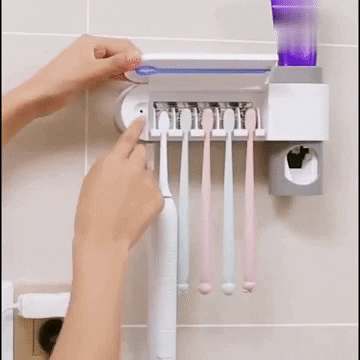 Ultraviolet (UV) radiation destroys 

a wide array of

 bacteria 

and other dangerous 

pathogens

 in just under 5 minutes! 

UV light turns off automatically when its done

!
Sterilization set: 

The Toothbrush Purification Case can hold up to 5 toothbrushes, electric toothbrush heads, and razors

.

Vacuum pump: The automatic toothpaste dispenser with vacuum pump squeezes just the right amount of toothpaste to reduce waste, save money, keep things neat, tidy, and clean.

Easy to install: You can stick your toothbrush holder to clean glass, ceramic tile, or bathroom wall with the included installation kit. No tools or screws required.

Organizes, dispenses, and sanitizes in ONE product. Let the device do all the work for you!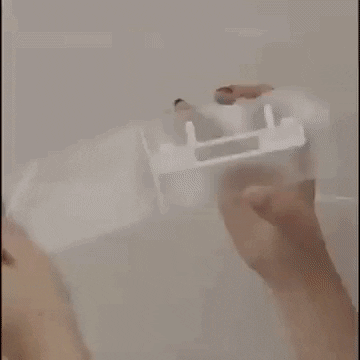 Numerous studies have been conducted so far about the effectiveness of UV light to destroy germs and bacteria. It's so effective indeed that in 2003 and 2016, major studies were conducted by research teams who found out that exposing objects to UV light would effectively eliminate the ability of pathogens to be contagious. No wonder why our toothbrush sterilizer can sterilize your toothbrush with it's UV light.
Win the battle against germs today with our UV toothbrush sterilizer!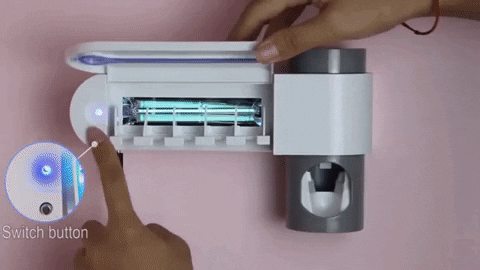 Feature
1.Family design can store up to 5 toothbrushes. 
2.Toothpaste holder and wall mount to save space. 
3.Be compatible with any kind of toothpaste. 
4.UV light will auto-off after 4-5 minutes. 
Specification