Everyday, from morning till evening we do a lot of different activities. And especially with the sunlight, we don't know that we are damaging our eyes. Forget the problem of carrying two pairs of eyeglasses while you are out; rather bring home the magnetic clip-on sunglasses which are stylish and effective from every angle. You can wear these along with your prescriptive lenses which you can transform into regular sunglasses simply by covering them with the Magnetic Snap On Sunglasses.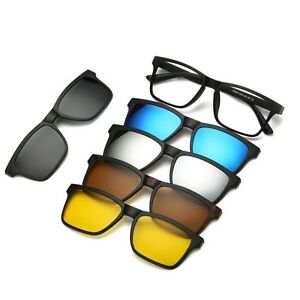 Features:
Dis-mountable Lens Design: 1 x Optical frame + 5Pcs different style of magnetic clip-ons, you can change it optionally, very convenient.

5 Different Style Lens: The gray color lens is polarized to eliminate glare, it will protect your eyes from harm; The yellow one is night vision driving lens, it offers High-definition vision for you when you drive at night. Other three lens are normal UV400 lenses, it will match your clothing well, more fashionable.

Material Quality: The Optical frame is made of TR90, super lightweight and crashworthy wear resistance; The lens are made of Explosion-proof Resin, it is Explosion-proof and scratch-resistant for durability.

UV400 Protection: 100%UV400 protection coating and blocks 100% harmful UVA&UVB rays. UV400 rated sunglasses are essential to protecting your eyes against long- term UV damage and keeping your eyes healthy from harmful array.
Package Includes:
Magnetic Snap On Sunglasses of your choice